Quick Mitt Hitting Gloves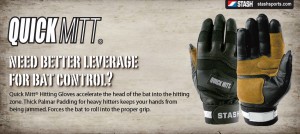 Need leverage for bat control? Accelerate the head of the bat into the hitting zone, while keeping your hands protected. Quick Mitt Hitting Gloves forces the bat to roll into the proper grip. Thick Palmar padding for heavy hitters keeps your hands from being jammed. Durable design for heavy hitters to improve leverage and get control of the bat.
Click Here to Order!